Hi friends!
Yes, I realize that it's Thursday. It's OK...I promise! Life is more important that blogging, always.
I'm still trying to mentally unpack some of the things I heard at Orange last week. You have no idea how busy my brain has been! This conference challenged me as a ministry leader, a person, and a parent. I'm just trying to make sure it all sticks!
One of the things that stuck with me is something that Andy Stanley, Senior Pastor of North Point Ministries in Atlanta said during his keynote session. He was speaking about leadership, and making sure that we are leading by serving, the way Jesus did and this is what he said...
"Don't be fair, be engaged."
Five little words that have rocked my world! Our world seems to revolve around "fair". Everyone gets a participation award so no one feel left out, people sue other people left and right because they didn't get equal treatment. Now, granted, sometimes that is completely justified, but I think "fair" has gotten a little out of control.
What Andy Stanley was trying to say was to not avoid helping someone because "if I help them, then I have to help everyone." He challenged us to reject that notion.
(source unknown)
I don't want to let the fear of not being able to help everyone keep me from helping someone. It just doesn't make any sense. It's like telling an adopting family at an orphanage that they shouldn't adopt one child because then they would have to adopt them all. It doesn't apply to that situation, so why should it apply to others? If I can help someone now, I should. I may not be able to help the next person, and that is OK too. Andy Stanley used the story from
John 5
to illustrate his point. Out of the "crowds" of sick people at the pool of Bethesda, Jesus chose to heal one (at least according to the record). I don't know why He chose that. It certainly wasn't because He wasn't capable of healing them all. Maybe it was so 2000 years later I could hear that story from a new perspective and learn that it is OK to just help one. Who knows?
I had the chance to bless a friend of mine in a small way financially today. I could have gotten caught up up in thinking that I shouldn't bless her because I can't bless everyone, but I didn't. Thank goodness for that. If I had gotten stuck in that thought process I would have not only kept a blessing from her, but I would have missed out on the joy of being the one doing the blessing! Seeing someone happy makes me happy. Getting to bless someone is a blessing in and of itself.
I don't want to miss out on being engaged because I'm stuck at fair.
~ ~ ~ ~ ~ ~ ~ ~ ~ ~ ~ ~ ~ ~ ~
Now we want to hear from you!
Go ahead and link us up, but remember to follow the rules! This linky is for 1LW posts only. I love seeing all of your fun projects, but there are other parties for those! ; )
Things have changed a bit with this link up. Since we've switched to a once a month party, you may not have had a chance to link up for April. Go ahead and link up those posts. This party will be open all month, so as you write 1LW posts in May, come back and link them up too! We'll share our favorites in June!
Please link back to this post if you're playing along!
Grab a button: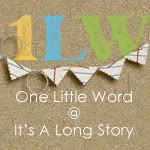 A text link is fine too, if you prefer that!
Be blessed!
Heather