Hey there, friends.
Part of our bed time routine for quite a while now has been reading a book, and then a bible story. If it's a late bed time, then the bible story wins out. We want to make sure that Abbey is getting into the Word every day. Now if only I could get myself into the Word every day....does story time count?
Anyway.
We've tried a few different children's bibles, and I though I would share our favorites with you.
1.
My First Hands-On Bible
This is actually the preschool version of the Bible that we give to our 2nd Graders at church as their "first bible" every year. It isn't the entire bible, but has most of the major stories, and some of the not so common ones as well (Balaam's talking donkey, anyone?). It includes little prompts throughout the stories to get kinds involved, and each story ends with a prayer. It is straight from the NLT translation with some condensing, so it can feel a bit "formal" sometimes for story time, but we like it a lot. When we first started reading it with Abbey we HAD to read Jesus Calms the Storm...every night...for a long time. I guess if I have to repeat a story, that's a good one to repeat! She pretty much had it memorized...
2.
The Jesus Storybook Bible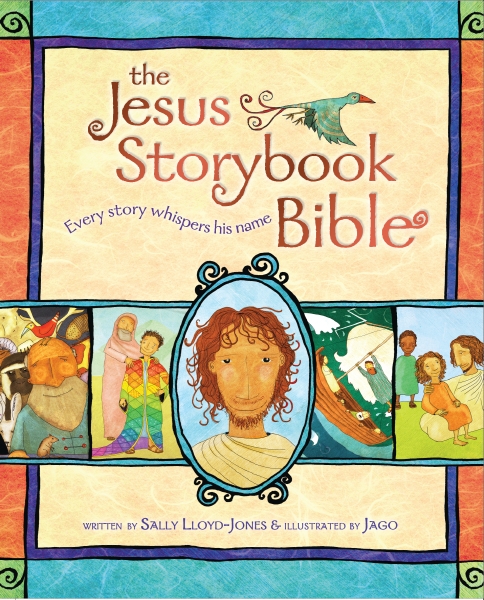 We've checked this one out from the library at least 3 times. I really need to break down and buy it. I love the artwork in it, and it has much more of a "storybook" feel. Stories are paraphrased, and at the end every single one of them is tied back to Jesus. I love it. It has given me perspective on stories that I had never thought of before. Who says story time is just for the kids?
3.
Jesus Calling Bible Storybook
This one is our most recent addition. It also had gorgeous artwork, and a storybook flow. At the end of each story it has a scripture verse and a "Letter from Jesus" just like the Jesus Calling devotionals. We haven't had it for long, but it's quickly becoming our go-to.
Do you have a favorite Bible story book? I would love to hear about it! Leave it for us in the comments.
Be blessed!
Heather