This is a Sponsored post written by me on behalf of
éclos Skin Care
for
SocialSpark
. All opinions are 100% mine.
Hello friends!
When I recently got the chance to try out the
éclos Skin Care
line, I jumped at it! Who doesn't love free beauty products, am I right?
I have to admit, I am a face care slacker! I'm typically more of the cleansing cloth type of face washer, but these products sounded right up my alley, so I figured "why not?"
First, let me tell you a little bit about
éclos Skin Care
.
eclos uses Apple Stem Cells from a rare Swiss apple that have been shown to stimulate skin cells, and encourage them to act like younger skin. These are combined with plant enzymes, vitamins and anti-oxidants to help minimize the appearance of fine lines and wrinkles.
When I first read that I thought "Seriously? Apple Stem Cells? You have GOT to be kidding me!" However, the real test was how the products made my skin feel. When I got the sample pack in the mail, I was so excited to try it out!
Here's what came in the box:
Facial Cleanser Skin Prep:
I love this cleanser! I can't even tell you how many cleansers I've tried that leave my skin feeling dry and tight. This didn't do that at all! On a busy morning, I could use just this product and feel ready to go!
Cellular Activator Face Serum:
This product was also nice and light. It is supposed to stimulate cell reproduction and helps your skin resist further damage. With summer coming up and all that comes with being outside more, that makes me happy! It is not SPF, but anything that helps my skin resist damage is great in my book!
Moisture Therapy Regenerative Cream:
The first time I tried this moisturizer, I thought I hated it. It left my skin feeling greasy, which with my already combination skin, was no fun! As it turns out, I was just using WAY too much! A little bit seriously goes a looong way with this cream! I've been mixing it with some liquid foundation to create a fantastic tinted moisturizer!
Restorative Eye Cream:
My mom called dibs on this one! She has a hard time finding eye creams that she likes, as many of them make her face break out if they get too far down on her face. She loves this one so far! No major results yet, but no breakouts either! That's a win for her sensitive skin!
Instant Radiance Facial Scrub:
I think this might be my favorite product in the whole line! I use it a few times a week to exfoliate my skin, and it is fantastic. I always feel so clean and polished!
Skin Renewal Clay Mask:
I've only been able to use this product once, but I loved it! It left my skin feeling so soft and smooth!
eclos Terry Cloth Headband:
It might sound weird, but I seriously love this headband! I can never find headbands that keep all of my hair back, and this one does! It's soft, and cushy, and i love it!
I absolutely loved the way these products made my skin feel! I'm even getting to the point where I feel like I can leave the house without some sort of foundation on, which is great for summer. Honestly, I was just as convinced of these products when I didn't use them for a few days. I had a few busy mornings, and didn't get to use my eclos. Oh, man! Did I ever break out! I'm still recovering, so my after picture doesn't look all that different from my before...sorry!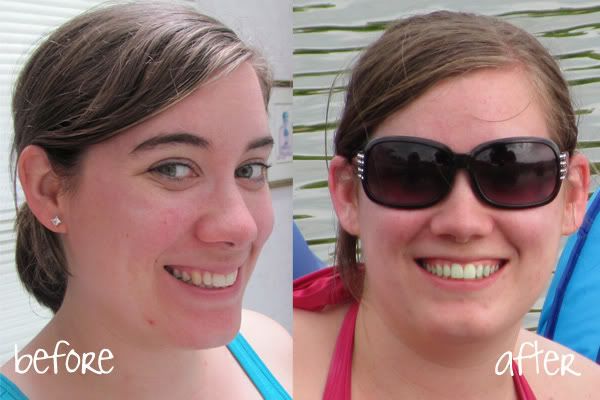 (most unflattering pictures EVER! Yikes!!)
I can promise you that my skin feels a million times better!
So, now that I've raved about
éclos Skin Care
, let me tell you my favorite, favorite part...the price! Products like this used to only be available at high end retailers, and let's face it...I don't shop at high end retailers! However, these products are totally in my price point! I saw them at Super Target last week! Can't beat that.
Ready to try out Eclos for yourself? They were generous enough to send me an extra sample kit to give away! All you need to do is leave me a little comment letting me know which product you are the most excited about trying. Easy peasy!
*giveaway will close Saturday 6/2 at Midnight CST*
Be blessed!
Heather