Abbey wants nothing to do with dressing up for Halloween this year. Hooray for 2-ness! We have a huge bag of hand-me-down costumes, and so far we've gotten her to put on one, for a few minutes. I think the costume of choice this year is going to be whatever we can get her to put on for long enough to take pictures! haha!
I had plans for a homemade costume, but between the tightness of our budget and the pickiness of our toddler, that didn't happen. However, I didn't want Halloween to pass without something homemade, so I got to thinking. Since the quiet book, I have a serious love for felt. It's cheap, it comes in a million colors, and it doesn't fray! LOVE!
I dug through my basket of felt, and found an orange piece and a green piece. Perfect for a pumpkin!
While I am totally OK with Abbey going trick-or-treating, I am not OK with a huge candy stash because, let's face it, I'm going to eat most of it anyway. That and a small treat bag self-limits the trick-or-treating.
"Oh, the bag is full? Time to go home!"
This bag is just big enough to hold a good size stash, and just small enough to take us up and down the street...once.
Here's how I did it:
I started out by folding my orange piece of felt in half, and stitching up the sides.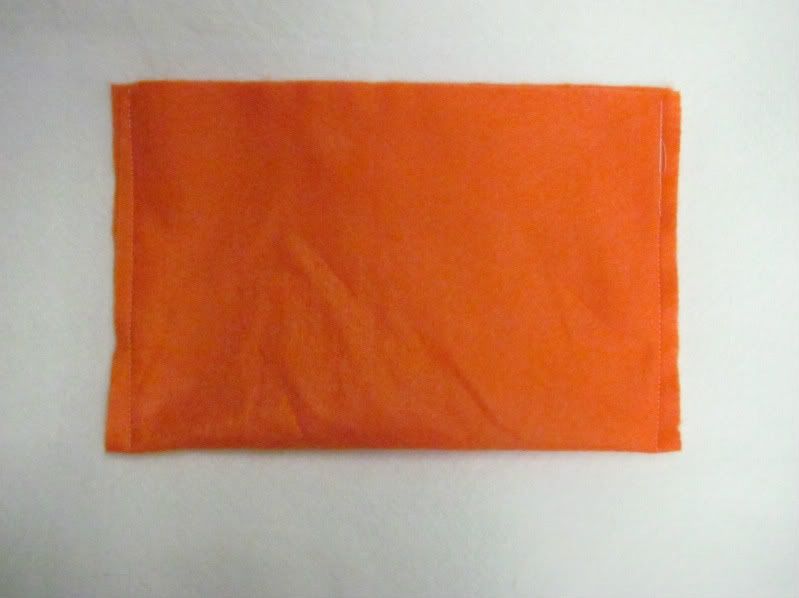 This picture should be horizontal. Blogger has decided it needs to be vertical.
Then I turned my pocket into a boxy-bag (yes, that is the technical term) by sewing up the corners.
If you don't know how to do this, its super easy. Simply fold your corners, and sew a line perpendicular to your seam. The further in you go, the "boxier" your bag will be. Mine are about an inch in.
That left me with this:
Now I cut out some leaves. I just folded my green felt in half and used my rotary cutter to cut out some leaf type shapes along the edges.
These then got pinned around the edge of the bag like so:
Complicated, I know. I'm really pushing the boundaries of sewing technique here.
I stitched around the top of the bag, and added a little handle.
Voila! An adorable trick-or-treat tote!
Is it perfect? Nope. Is it going to get used for anything other than play time after Monday night? Nope!
This bag took me maaaybe 20 minutes, including stopping and taking pictures. I love projects like this! Who doesn't love a little instant gratification, huh?
Happy Halloween, everyone! Stay safe!