Hello everyone! Chrissy is here with us this week. I have to say, a lot of what she talks about today resonates with me. Hopefully we can all keep each other motivated!
~ ~ ~ ~ ~ ~ ~ ~ ~ ~ ~ ~ ~ ~ ~ ~
Hey there again friends.
It's starting to feel like my second home over here!
How are you doing? How is your 1LW going?
I would say mine is going okay...
I wish I could say great but i have dropped the ball in a few area's
The worst is my time in the Word.
I have not been doing good with this.
I am really behind on my reading the Bible in 1 year plan.
I have to remember to not beat myself up over it.
It's hard not to though.
I feel like I am doing better with communication.
I am returning calls, answering emails, and responding to texts more often!

I will be honest when I am having a bad day (due to my crohn's) I ignore all calls and texts.
Sometimes it's hard to muster up anything nice and it's probably better that I don't say anything at all!
I knew you would agree with me.

I am looking forward to this Lenten season.
It's kind of a hot button topic i found out.
I am trying to find the right words to express why we participate in lent.
When I find those words I'll be sure to share them with you! HA

This week we are memorizing...
E - Every good and perfect gift is from above. James 1:17
I cannot believe we are on E already.
My 10 yr old has most of A-D memorized! Yeah!

Well friends, I better run. See you next week!
~ ~ ~ ~ ~ ~ ~ ~ ~ ~ ~ ~ ~ ~ ~ ~
Thanks, Chrissy!
Alright, I want to hear from you!
Remember,this linky party is meant for posts about how you are living out your One Little Word. I love all of your crafts and projects, and I'm sure you are super proud of them, but this isn't the party for those! If you're looking for somewhere to link those up, my parter-in-crime, Chrissy, has a great one on
Tuesdays
!
Don't know what a One Little Word is? Check out
THIS
post to find out more.
Haven't picked a word yet? Go ahead! This is not a time sensitive challenge! Pick a word, write about it, and then come tell us!
Please link back to this post if you're playing along!
Grab a button: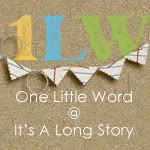 A text link is fine too, if you prefer that!
Be blessed!