Okay, :deep breath: here we go...
In one day, March 22nd, two of my grandparents died within 12 hours of each other.
In one day my parents both lost a parent.
In one day I lost my Gram, who has battled MS and cancer my entire life, and beat it more times than most.
In one day I lost my Grandpa, who's body just couldn't cope with a surgery that was supposed to save his life.
In one day everything changed.
We entered that week knowing that it was going to be rough. My Gram (my dad's mom) had been on hospice for a couple weeks, and took a downward turn on Sunday. Grandpa (my mom's dad) had his surgery scheduled for Monday. It was high risk, but everything pointed to a slow, but successful recovery.
In one day they were gone.
I don't think anyone would think twice if I was mad at God about this. And you know what...I tried to be. I did. I tried to be mad at God. (who does that??)
It lasted, about, 10 seconds.
It just didn't make any sense. I mean, let's face it, none of this makes sense, but being mad at God didn't make anything feel any better.
A few weeks ago, a friend of mine asked if I really believed that God allowed things to happen in our lives because He has something better for us. I responded, without hesitation, that I absolutely do. I still do.
Is my life better without my grandparents? Are my parent's lives better without their parents? Of course not. But our lives are temporary.
My grandparents are healthy, whole, and with God. Is that better? Yes, and that's permanent.
Could I be mad at God about this? Definitely.
However, I am intentionally choosing to run to Him in my grief. I am clinging to Him because that's the only thing that makes sense, and by doing that my faith and relationship with Him will grow even bigger. Is that better? Yes. Always, yes.
~ ~ ~ ~ ~ ~ ~ ~ ~ ~ ~ ~ ~ ~ ~ ~ ~ ~ ~ ~ ~ ~ ~ ~ ~ ~ ~ ~ ~ ~
Alright friends, it's time for you to share your 1LW stories with us this week!
First, though, I want to announce a little change. 1LW will continue to be a weekly post. You will still here from Chrissy and I. However, the linky party is going to be changing to once a month. If you want to keep posting 1LW posts each week (Lani, I'm looking at you!) do it! Link them all up at the party! We would love to read them! Otherwise, watch for the party on the first Wednesday of each month.
Please link back to this post if you're playing along!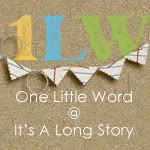 A text link is fine too, if you prefer that!
Be blessed!