Hi friends!
No big post for you today for 1LW Wednesday. We are experiencing some fantastic weather here in Chicagoland, and I'm being intentional and taking full advantage of it! Abbey and I have been doing all sorts of fun stuff outside! She's taking a nap now, so I'm hoping on here super quick.
I still want to hear what you all have been up to this week, so link up!
Remember, this is a linky party for 1LW posts only. I love all of your arts and crafts, but this isn't the place to share them. Don't know what a 1LW is? Check out
this post.
Looking for a great place to share your other fun stuff? Check out my 1LW blogging partner Chrissy over at
Boerman Ramblings
!
Haven't picked a word yet? Go ahead! This is not a time sensitive challenge! Pick a word, write about it, and then come tell us!
Please link back to this post if you're playing along!
Grab a button: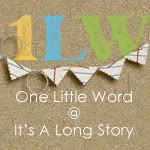 A text link is fine too, if you prefer that!
Be blessed!