Hello friends!
I have to be honest with all of you. I've been having a very hard time being
intentional
lately. I'm not sure what it is...just a funk I guess. Although, I don't really like saying that. It feels like an excuse. In the first few weeks of this project, just the thought "are you being intentional right now?" was enough to get me off my butt and going, but now that doesn't seem to work as well.
So...I've decided to take a note from
Biblical Homemaking
, and set some goals for the month of March. I know we're already a week in, but I think that will be OK.
OK...here we go!
1. I love to read, but I mostly stick with fiction. I have to seriously try to read non-fiction. I've got a couple books on my list that I'd like to get through this month.
-
Volunteers That Stick
by Jim Wideman: This one is a suggestion from my Children's Ministry Director at work. I have fantastic volunteers, and I want to make sure I do everything I can to keep them!
-
My So-Called Life as a Proverbs 31 Wife
: I have several friends who have read this, and have loved it. My job as a wife is one that I struggle with feeling successful at, so maybe this will help?
2. Workout 3 times a week: Over the summer I was doing really well working my way through a Couch to 5k program. Then the weather got gross and I got lazy. I go back and forth between being good about working out regularly, and going weeks without doing it at all. I want to change that.
3. Spend 15 minutes a day in scripture: It embarasses me to say how bad I am at this. It needs to happen. Does anyone have any good daily devotional/studies they like?
Alright, I think that's a good start for March. Nothing will de-rail me faster than setting too many goals.
I'm working on an exciting, but pretty major project right now...can't wait to tell you all about it!!
Alright, I want to hear from you!
Remember,this linky party is meant for posts about how you are living out your One Little Word. I love all of your crafts and projects, and I'm sure you are super proud of them, but this isn't the party for those! If you're looking for somewhere to link those up, my parter-in-crime, Chrissy, has a great one on
Tuesdays
!
Don't know what a One Little Word is? Check out
THIS
post to find out more.
Haven't picked a word yet? Go ahead! This is not a time sensitive challenge! Pick a word, write about it, and then come tell us!
Please link back to this post if you're playing along!
Grab a button: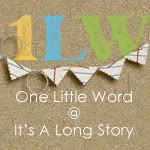 A text link is fine too, if you prefer that!
Be blessed!