Hi everyone!
I have been enjoying reading your link ups so much! I am thrilled to be on this journey with you, and I hope we can continue to keep each other accountable for the rest of the year.
In my first post there were a few things I mentioned wanting to be more INTENTIONAL about.
One of those things was my time with God, and another one of those things was myself. This week I want to tell you a little bit about how I'm working on both of those at the same time!
I've struggled with my weight, well....pretty much forever. The stay-at-home mom transition wasn't helpful with regards to that, and I'm still, 2 1/2 years later, trying to get back to my pre-baby weight (let's not even discuss my wedding weight.)
I had heard about the book Made To Crave by Lysa TerKeurst (of Proverbs 31 Ministries) on the radio, and it sounded intriguing. Cravings are something I deal with all. the. time. and I thought this might be a good read for me.
As I started reading it, I knew that I needed to be going on this journey with someone. I asked my incredibly fantastic friend Karly to be my accountability partner. Karly and, I met each other in Phoenix, and were part of the same church community. Even thought she has since moved to Spokane, and I have moved back to Chicago, I consider her one of my best friends, and I knew she would benefit from this book as well.
Each week we read a chapter and send each other our responses to the discussion questions at the end. This book is rocking my world! I've always asked God for help in my weight loss journey, but it's always felt like "my battle". This book is showing me that God should be part of the process every step of the way. By making good choices and taking care of the body I have been given, I am glorifying Him. He wants to walk through this with me, and He wants to set me free from this cycle. I have to do my part now. There are some logistical ways that I am keeping on track with my weight loss, but I'll post about those another day. For right now, I am focusing on keeping God at the center of this experience, and allowing Him to grow me (and shrink me! *snort*) in the process!
How are you living out your 1LW this week? I want to hear about it!
Please link back to this post if you're playing along!
Grab a button: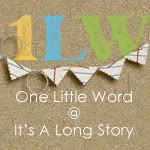 A text link is fine too, if you prefer that!