Hi friends! Chrissy is here with you this week to share her 1LW. If you haven't been to her blog,
Boerman Ramblings
, you need to run over there....like, NOW! Ok, maybe not now. Read this post, then run over there, k?
Take it away Chrissy...
~ ~ ~ ~ ~ ~ ~ ~ ~ ~ ~ ~ ~ ~
I am so excited to be here today. I am so glad that I get to enjoy this weekly linky party with Heather.
word on the street is I may even get to meet her in real life this weekend..
I wish I could say that I prayed and meditated for weeks
Listening for the God to tell me what my One Little Word should be.
Be that is not the case. Well not in that order anyway.
I chose my word for 2012 and
then prayed
about it.
I
do feel the Lord agreed
with me that this is a good choice for me.
So
WORDS
are my focus for 2012.
Why WORDS?
It's something I struggle with in my life.
I struggle with what to say, how to say it, when to speak, speaking too much/too little, speaking God's word when prompted.
I really want to apply this discipline of WORDS to
all areas of my life.
What does that look like?
My Family:
Less yelling, less bossing, paying attention to my tone when speaking, using more words of grace, asking for forgiveness, admitting when I am wrong, using more words of affection and compassion, being more intentional of speaking God's word to my children.
For my friends:
More words in texts, emails, facebook messages, more words on the phone!, better explanations, more honesty, more being silent and listening, being more intentional with encouraging words.
My Blog:
More words about my life, my struggles, my accomplishments, what I believe, why I believe what I do, more spiritual stories, and more posts about the awesomeness of others.
My spiritual Life:
more
reading
God's word,
sharing
his word more,
meditating
on it more,
memorizing
his Word, (
a to z challenge
), being more intentional to live by his word.
I am still trying to decide how I will display my OLW in my house.
Wooden Letters: Yarn wrapped?, decoupaged?, painted?
Paint or vinyl on the wall?
Or maybe I will stitch it on fabric and hang it in an embroidery hoop?
How about you? How would you display your word?
~ ~ ~ ~ ~ ~ ~ ~ ~ ~ ~ ~ ~ ~
What a fantastic idea! I love the idea of keeping your word visible and in the forefront of your mind. Link up all the fantastic ways you're showing off your word. Not planning on displaying it, share how you're living out your word this week! Haven't shared your word yet? We want to hear it!
Please link back to this post if you're playing along!
Grab a button: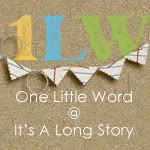 A text link is fine too, if you prefer that!